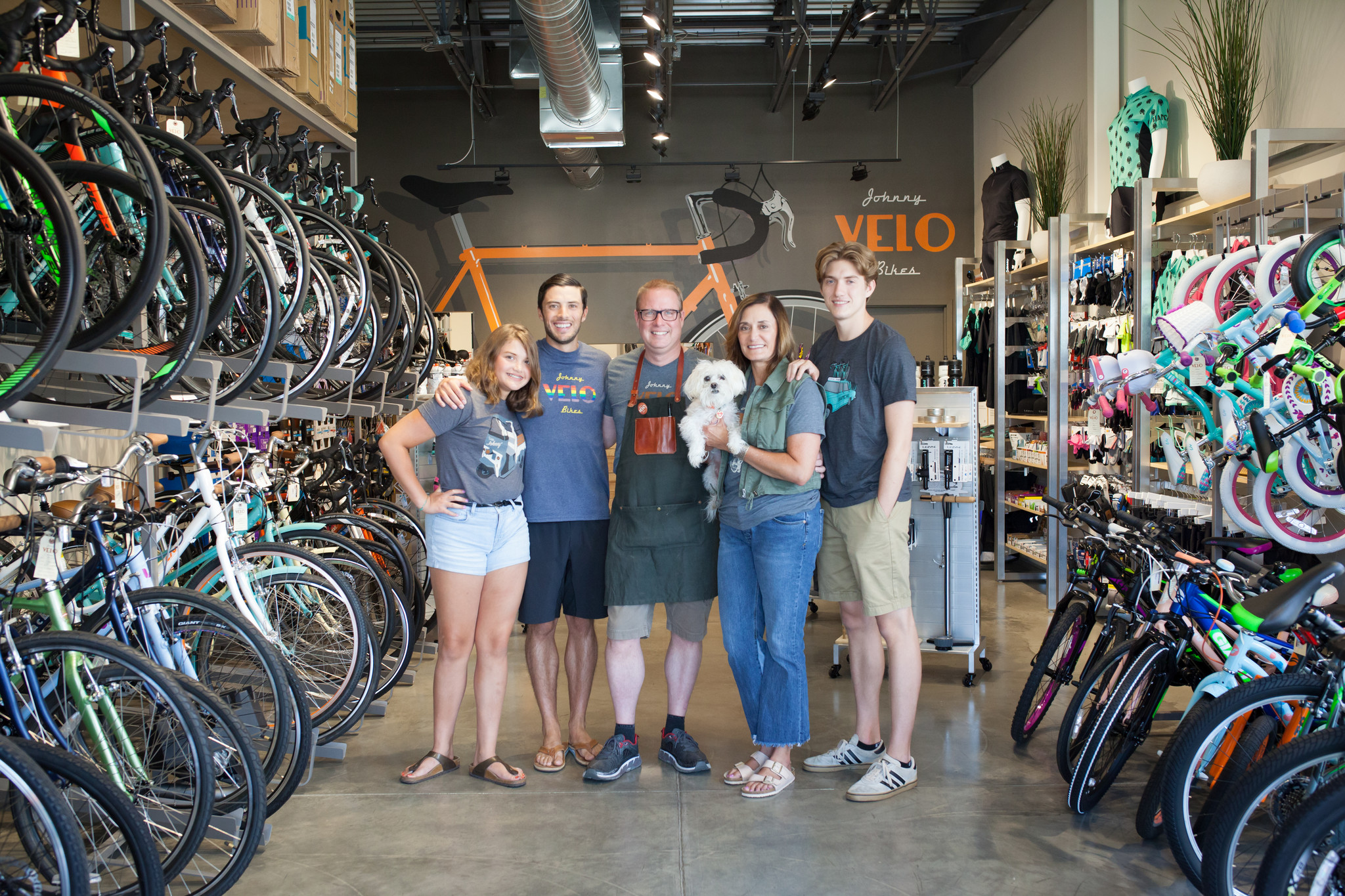 At Johnny Velo Bikes, we have over a 100 bikes in all styles, sizes and colors available to you at any given time and available for test rides around the block or on the Olentangy Bike Trail.  Our team leads will see to it that you are fit properly for the bike you desire using our Right Ride bike sizing system's complimentary Quick Fit service. They will ensure all of your questions are answered and review the bike's functionality with you to ensure it gives you years of riding pleasure.

Unlike other bike stores, Johnny Velo Bikes wants you to feel confident in your decision to purchase a bike from us. This is why we created the Five-Way Promise. No other bike store in central Ohio gives you all of this.
The Five-Way Promise*
One-year free service for your bike:
Johnny Velo Bikes wants you to Enjoy Your Ride™ and wants to make sure any issues are addressed so that you can enjoy your new purchase.
90-day price match guarantee:
If Giant, Kona, or Bianchi lower their prices on their websites within 90 days of your bike purchase, just come into Johnny Velo Bikes and we will refund you the difference.
One free tune-up within the first year: At the end of the riding season, just bring your bike in and we'll give you the Johnny Velo Bikes Kelso tune up free of charge.
Lifetime Manufacturer's Frame Warranty:
Giant, Kona, and Bianchi all warranty their frames against manufacturers defects for the life of the bike.
Lifetime cable adjustments for your bike: No one likes sloppy braking, their chain falling off, or not shifting properly. This is why at Johnny Velo Bikes, we will adjust any of the cables on your bike to make your ride smoother.
Oh, and don't forget every bike gets a 30 Day Tune-Up!  Just bring your bike in after 3-5 rides and we will tighten your cables which have a tendency to stretch initially, causing noise, rubbing, sloppy braking, or slow shifting.  This occurs with every bike purchase, but we want you to Enjoy Your Ride™ so Johnny Velo Bikes backs you up and provides this quick and easy service to you at no additional charge.  It takes five minutes and you don't have to drop your bike off.  We'll do it while you wait!
Flat Tire Club
Flat tires suck.  Saving money doesn't! That's why we've developed a program to take the thorn out of flat tires.  For about the cost of one flat tire, you can get lifetime flat tire replacement.
For any new bike purchased at Johnny Velo Bikes we will cover all service and tube replacement for as long as you own your bike for a one time fee of only $20 on the day you purchase your bike.
Didn't purchase your bike from Johnny Velo Bikes?  Don't worry, we have a plan for you too.For a one time fee of only $45 you can get the same lifetime flat tire service which includes a tube and service.
For bikes that are tubeless, we have an annual sealant fluid drain and replacement to keep you riding all year long for only $25.
People Like Us!
We don't like to toot our own horn, or ring our own bike bell, but there is no other bike shop in our community that has as many likes, five star reviews, high-fives, pats on the back or most importantly, customer referrals and reviews.  Your experience in our store, whether you are buying a bike bell or a $5,000 bike is very important to us. You will be treated fairly and we will do our best to answer all of your questions to your satisfaction. 
Come On In!
So now that you know what raises us above our competition, come in and experience the Johnny Velo Bikes experience for yourself.  Ask questions.  Take a bike out for a test ride. Ask us about competitors bikes, used bikes, or internet bikes. We'll do our best to see you leave with the right bike that fits you perfectly and meets your budget.
*Please stop in and ask a team leader for details.