Posted on
By Aidan Robinson & Steph Waite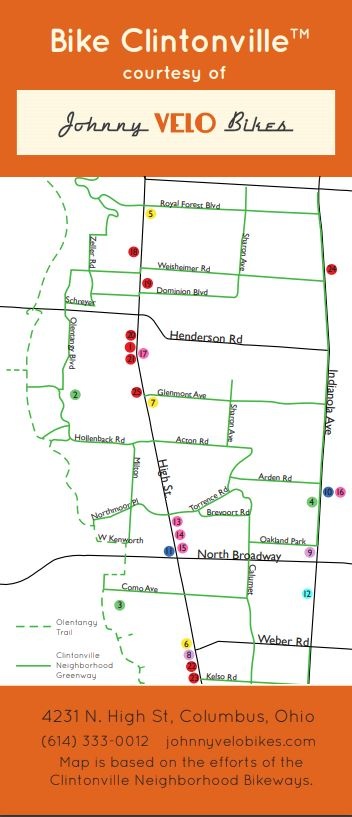 Our shop designed map to get you biking more in the Clintonville area. It can be picked up at our store in a nice, reusable format, that can be picked up at a number of retail and restaurant locations in Clintonville, or you can download or print one out on your own.
FOR IMMEDIATE RELEASE:  Monday, June 3, 2019
JOHNNY VELO BIKES RELEASES CLINTONVILLE BIKE MAP
Free map highlights Clintonville businesses and parks.
Columbus, Ohio – Clintonville is a great place to ride a bike, with its proximity to the Olentangy Trail and the Clintonville Neighborhood Greenways. Now navigating the greenways is even easier with the Bike Clintonville™ map, available for free seven days a week during shop hours at Johnny Velo Bikes at 4231 N. High Street, near Northstar.
This map highlights Clintonville's local eateries (and drinkeries), parks and other places Clintonville residents can get to via the neighborhood greenways—a network of streets where people biking and walking are given priority. The map was designed by Aidan Robinson, who is a city and regional planning major at The Ohio State University and son of Johnny Velo Bikes owner, John Robinson.
John Robinson is a biking advocate and proponent of the Clintonville Neighborhood Greenways. "I asked my son to create this map because I want to make it easy for individuals and families to ride in our neighborhood safely, and to use their bikes for transportation and recreation," says Robinson.
For details on the shop, visit johnyyvelobikes.com or follow us on Facebook, Twitter and Instagram.
About Johnny Velo Bikes:
Founded in 2017, Johnny Velo Bikes is a local, family-owned and community-based bike shop in the Clintonville neighborhood of Columbus, Ohio that's committed to serving cyclists of all types, from the casual rider to the racing enthusiast. Johnny Velo Bikes, proudly carries Giant, Liv, Bianchi, and Kona bikes, while offering a full-service repair department for all makes and models. We want you to Enjoy Your Ride™ !