Let's go back to the time where gifts gave us joy, freedom and independence; not a cup of coffee.
A Bike Under The Tree™-Giving a gift and not a transaction this holiday season!
How do you know when your child has officially become a teenager? When a stack of Starbucks gift cards is an exciting birthday present. That's what my daughter got from her friends for her 13th birthday this year. A few weeks later I asked her how many she had left. "None," she told me. "I used them all up."
When did gifts become transactions for a cup of joe? Does one truly appreciate a gift that is consumed so quickly, and provides no lasting enjoyment?
Check out that picture of me in 1974. Now that's what I call a gift. My parents gave me a Huffy Stars and Stripes, loaded with everything a six-year-old could possibly want: a banana seat, ape hanger handlebars, a slick red, white, and blue paint job. Oh, and that Cheater Slick rear tire, wider than the front tire to make my new ride look like the drag-racing machine I truly believed it was. My bike was going to fly across Snake Canyon (or maybe just off the plywood-and-cinder-block ramp at the end of my driveway).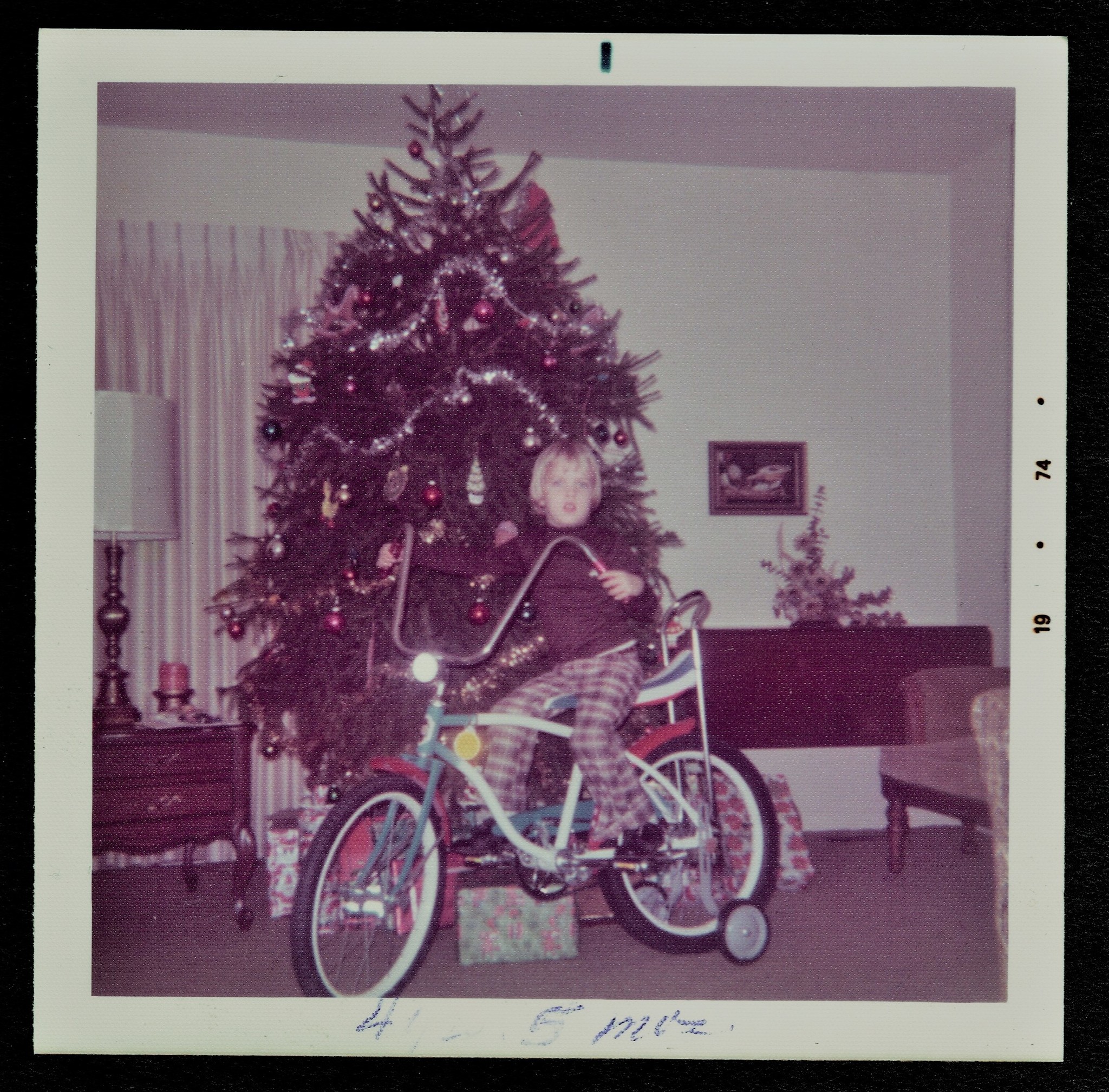 The owner of Johnny Velo Bikes, John Robinson Christmas morning 1974 with his first bike.
What I didn't appreciate until adulthood was the freedom and independence that bike gave me in my hometown of Oberlin, Ohio. I rode it to school everyday, to baseball practice across town, to the library every Saturday morning with my parents, and to visit friends in the next cul-de-sac over. My father and I rode together everywhere in Oberlin. To see the community fireworks, to swim in the reservoir, and even to my Suzuki Piano lessons. Who would have thought that one present under the tree in 1975 could give a person so much. Call me a skeptic, but I don't see the same lifelong joy in a soy latte, peppermint-flavored, moose bark grande.
Like many kids growing up, I gravitated to mopeds, dirt bikes, and then cars. Ah, yes, cars! The ultimate form of transportation freedom, or so I thought at the time. As I headed off to college, I began to miss that childhood joy, so I got another bike with my father in 1990, at Best Bike Shop in Mansfield, Ohio. It was my first Giant Iguana mountain bike and it took me everywhere. I rode TOSRV on it—all 200+ miles on knobby tires. Then my father reached out to me about a week-long ride called the Great Ohio Bike Adventure. This ride became a father/son bonding trip that eventually turned into a father/son/grandson annual bonding trip. The three of us riding all over the state, camping and enjoying each other's company without any cell phones. Or Starbucks.
At some point in our lives, we went from bikes to bytes. And yes, I understand that a phone, tablet, computer, or Roku can make us feel gratitude, too. But do any of them offer the freedom and independence that comes with riding a bike down your driveway and out into the world?
This holiday season, I ask you to consider the gifts you're giving. Are they consumable, offering only fleeting joy and happiness? Do they consist of bytes and noises, only to be played with until the batteries wear out or the newest version is released? Consider a gift that offers joy to be remembered for a lifetime. Come on in and let me help you find a bike for a child, an adult, or for yourself. Reconnect with childhood happiness and ride out with a bike. But if you just can't make up your mind, we sell gift cards too!